Book your boat fishing trip.
Kestrel Warrior 6 is the perfect boat for your next fishing trip. Whether you're looking to go deep sea fishing, bass fishing or inshore fishing, we have it all! Our experienced skipper and crew will take you out of Brighton Marina and to the open sea. Offering Mackerel trips, Bass trips, deep-sea trips & inshore fishing trips. You catch some of the biggest fish around. Book your boat fishing trip on Kestrel Warrior 6 today and make sure you don't miss out!
Sea fishing trips from Newhaven & Brighton Area
Charter boat fishing trips for families, groups, and experienced and novice anglers. We provide you with a great charter boat fishing and inshore fishing experience, Giving you the chance to catch some really big fish. Kestrel Warrior 6 operates from Newhaven marina and has access to many sea fishing marks, with upgrades being done to access the fishing ground off of  Newhaven Marina, Brighton Marina and Eastbourne.
Why Newhaven Marina?
Newhaven Marina is easier and quicker to get to than Brighton Marina from the M23. Less of a walk with fishing tackle and parking is free,  Operating our charter fishing trips from Newhaven gives us close access to some of the best and most varied fishing marks in the UK both inshore and offshore meaning deep sea fishing trip marks.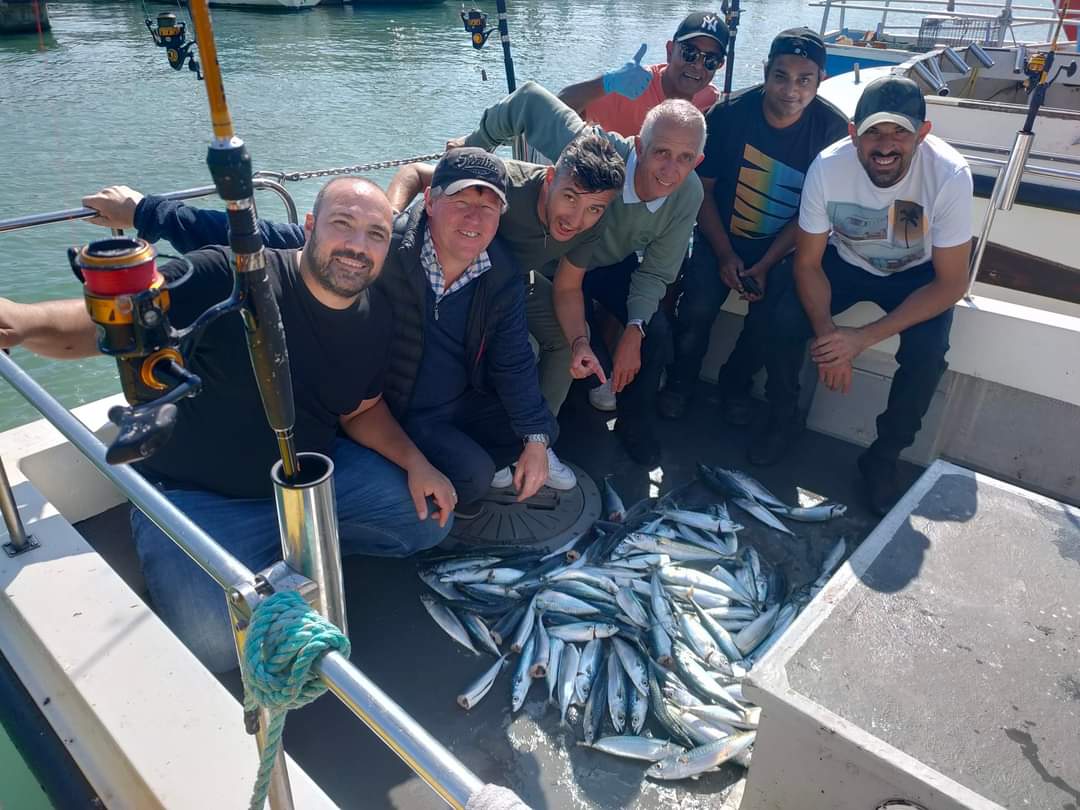 School Shark (Tope) fishing trips.
Kestrel Warrior 6 and its Captain Ant have a particular interest in fishing for Tope and more importantly returning them in good health. They are one of the UK's most important predatory species, and every inch a toothy shark, ranging in size up to 6 feet from nose to tail they are a hard-fighting creature, see our shark fishing trip page.
Kestrel Warrior 6 boat fishing trips
Offering a range of boat sea fishing trips from our 4.5-hour half-day trips to 10-hour offshore trips including our very popular offshore reef trips, and trips drifting the wrecks. Tailoring our trips to suit your requirements. Lure fishing trips are a speciality of the boat skipper.
All-inclusive fishing trips
Quality Penn Fishing and other top brands of tackle are available, bait can be pre-ordered and tuition is always available.
Book a fishing trip.
Speak to us to book a boat fishing trip so we can provide you with the ideal all-inclusive sea fishing trip that suits you. Visit our contact us page.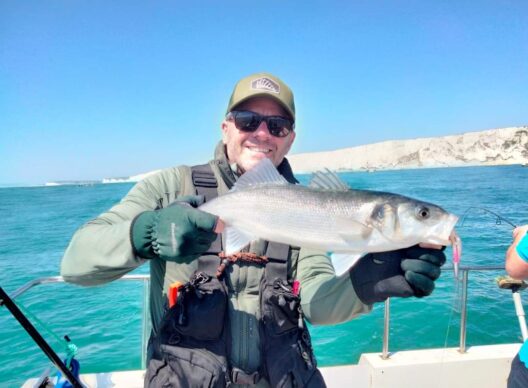 About the charter boat
Kestrel Warrior 6 is a Starfish 8, a purpose-built charter angling boat that provides maximum fishing space. With a deck space of 14 sqr meters allowing Kestrel Warrior 6 to accommodate up to 7 anglers.
Kestrel Warrior 6 engine and systems
The boat has a Volvo Penta 200 HP turbocharged inboard engine that can push the boat along with a cruising speed of 12 mph and a maximum sprint speed of 20 mph. the boat has all modern electronics and has just undergone a full inside refit and a new seating area. The boat also has an outside bait station for ease of baiting up and storing your fish to keep them fresh.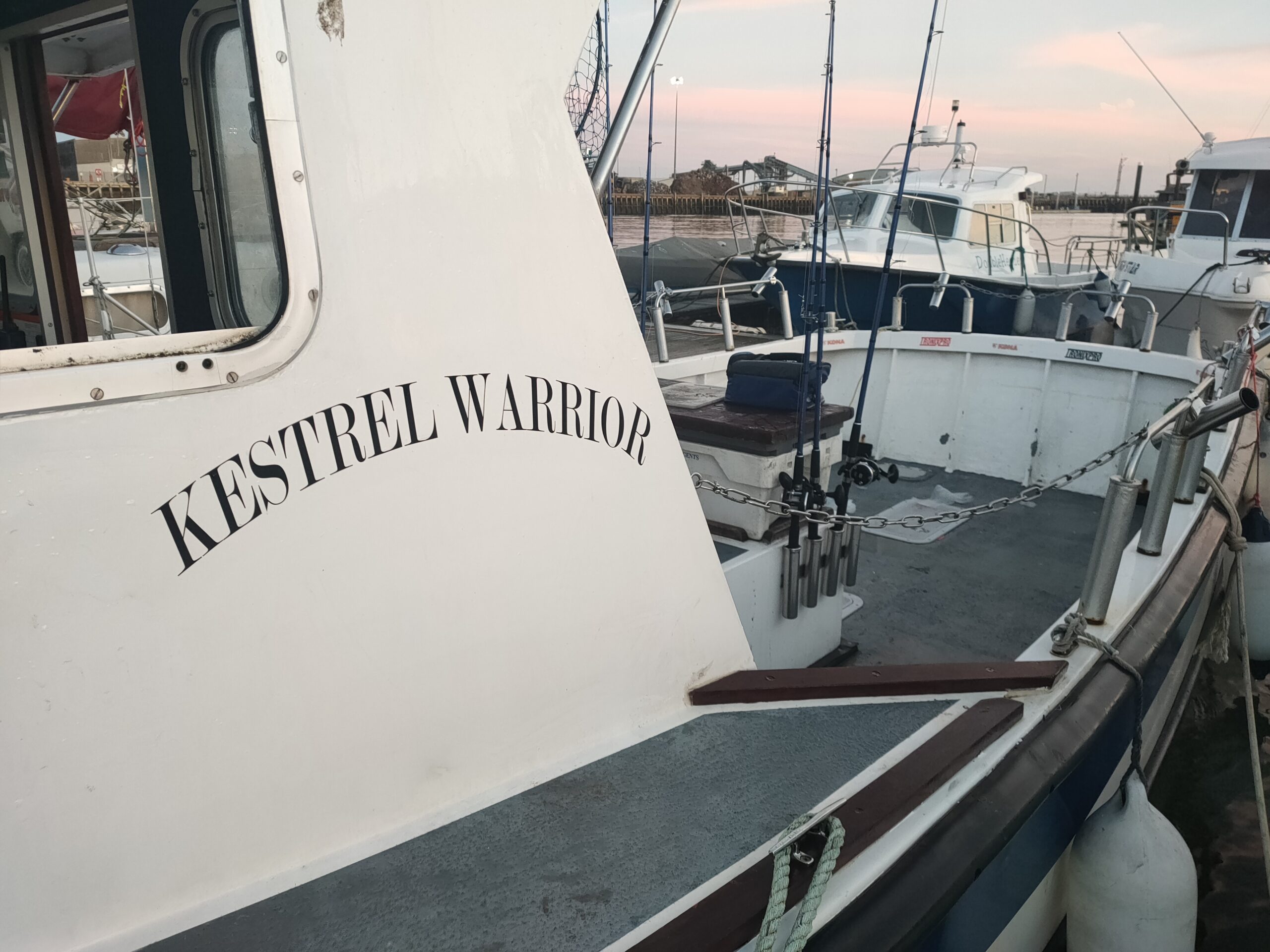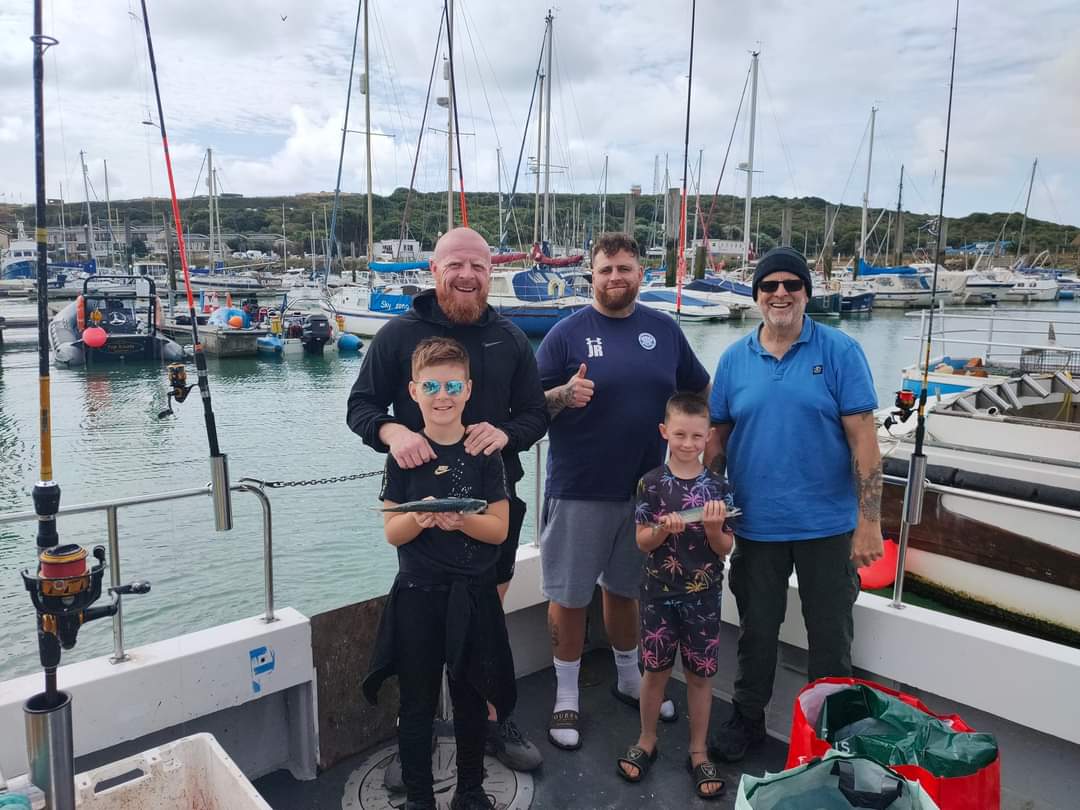 Latest mapping & sonar equipment
The boat has the latest in Simrad marine equipment. Kestrel Warrior boasts 2 nss evo3 units with the latest of mapping equipment. navico cmap. Reveal and total scan through hull transducers make it the most state of art mapping system which gives us an advantage over other local boats in the area.
Fishing rods and reels
Our charter boat has top-end branded rods & reels. Our reels are Penn international. and our rods are Yokazoma . All our fishing rigs are custom-made for us. Bait is locally dug fresh for each trip
Popular charter boat fishing trips.
Book a boat fishing trip –  +44 7896 471 691